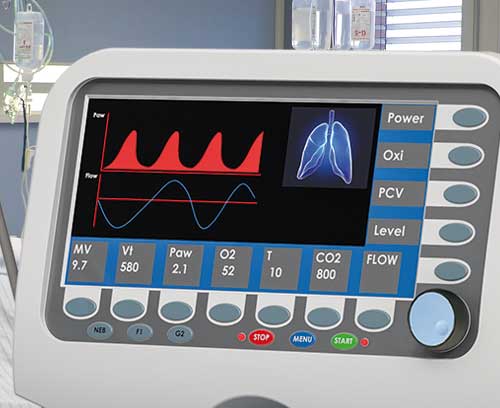 March 2020
OKW Gehäusesysteme has a wide range of modern tuning knobs for operating medical equipment, e.g. for ventilators, emergency systems, analysis, diagnostics and therapy equipment, medical IoT and for tracking and monitoring systems.

The COM-KNOBS range of tuning knobs supports the appearance of modern medical applications. Reliable operation is ensured by a collet fixture for electromechanical rotary potentiometers with round shaft ends in accordance with DIN 41 591. COM-KNOBS are available in knob sizes ø 16, 20, 23, 31 mm and in 40 and 50 mm with a wide range of accessories.
TOP-KNOB tuning knobs are the ideal solution for lateral screw fixing on round shaft ends in accordance with DIN 41591 or for mounting on axles with flat shaft ends ø 6/4.6 mm. The lateral screw fixture is innovatively concealed by functional marking elements in different colours and shapes.